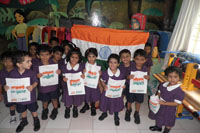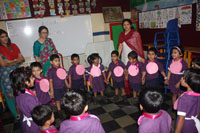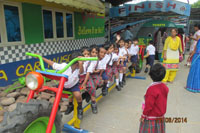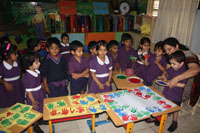 Academics
At Niraj Kindergarten School, we work together to provide excellence in education through a diverse and caring environment that encourages the holistic development of each student.
In order to learn and achieve more, the children are encouraged to work in groups, pairs and individually. Teamwork helps the students to share their experiences and put them in practice.
Here we not only focus on core academic subjects, but also encourage all-round development of the child, strengthen the child's self - esteem and individual strengths and help to realize his or her potential.
Niraj Kindergarten School offers CBSE (integrated) curriculum with emphasis on the English language teaching with the best of International methodology. You are given an option to choose between Hindi and Telugu as secondary languages.
Currently the School offers education from Nursery to Grade 1; subsequently we are going to continue up to Grade 5. The timings of the school are Mon - Fri 8:30AM - 12:30PM (Pre-Primary Section), 8:30AM - 3PM (Primary Section).
Homework is an integral part of Niraj Kindergarten School learning process. The amount of homework given for the students should ensure the overall academic development. Students may have up to 15 to 30 minutes of homework that is appropriate to their age, four to five times a week.
There will be a number of school - sponsored field trips at each grade level throughout the year, which will enable the children to get a more profound knowledge on each and every subject.
Our Objectives are:
To foster the physical, emotional and intellectual growth of the child.
To encourage their innate curiosity.
To encourage and strengthen the child's self-esteem, cultural identity & develop individual abilities to provide quality education in an eco-friendly environment.
To make the learning process pleasurable and an enriching experience.